Henry Lee Lucas (August 23, 1936 – March 12, 2001) was an American serial killer whose crimes spanned from 1960 to 1983. He was convicted of murdering eleven people and condemned to death for the murder of Debra Jackson, although his sentence would be commuted to life in prison in 1998. Lucas rose to infamy after confessing to 600+ murders while in prison to the Texas Rangers and other law enforcement officials.
An investigation by the Dallas Times-Herald newspaper later discredited many of Lucas' murder confessions and resulted in a follow-up investigation by the Attorney General of Texas. The investigation concluded that Lucas was a fabulist who had falsely confessed. Lucas himself recanted the confessions as a hoax.
Lucas' case resulted in a re-evaluation in police techniques and greater awareness of false confessions. Investigators did not consider that the petty privileges – fancy steak dinners, milkshakes, TV privileges – granted by the "confession" interviews would prompt further confessions. Investigators also allowed Lucas to see case files to "refresh his memory," giving him access to knowledge only the perpetrator(s) would know. The police also did not record their interviews, making it impossible to know for sure how much information interviewers accidentally gave Lucas unprompted.
Early Life
Lucas was born on August 23, 1936, in a one-room log cabin in Blacksburg, Virginia. Lucas lost an eye at age 10 after it became infected due to a fight with his brother. A friend later described him as a child who would often get attention by displaying frighteningly strange behavior. Lucas' mother, a sex worker, who would force him to watch her with her clients and make him cross-dress in public, purportedly so she could later pimp him out to men and women alike. Eventually, his schoolteachers complained about the cross-dressing and a court order put an end to it.
In December 1949, Lucas's alcoholic father, Anderson Lucas, died of hypothermia after going home drunk and collapsing outside during a blizzard. Shortly thereafter, while in the sixth grade, Lucas dropped out of school and ran away from home, drifting around Virginia. Lucas claimed to have committed his first murder in 1951 when he strangled 17-year-old Laura Burnsley after she refused his sexual advances.
On June 10, 1954, Lucas was convicted on over a dozen counts of burglary in and around Richmond, Virginia, and was sentenced to four years in prison. He escaped in 1957, was recaptured three days later, and was subsequently released on September 2, 1959.
On January 11, 1960, in Tecumseh, Michigan, Lucas killed his mother during an argument regarding whether or not he should return home to her house to care for her as she grew older. He claimed she struck him over the head with a broom, at which point he stabbed her in the neck. Lucas then fled the scene. He subsequently said.
"All I remember was slapping her alongside the neck, but after I did that I saw her fall and decided to grab her. But she fell to the floor and when I went back to pick her up, I realized she was dead. Then I noticed that I had my knife in my hand and she had been cut."
Opal returned later and discovered their mother alive but in a pool of blood. She called an ambulance, but it turned out to be too late to save Viola's life. The official police report stated she died of a heart attack precipitated by the assault. Lucas was arrested in Ohio on the outstanding Michigan warrant.
Lucas claimed to have killed his mother in self-defense, but his claim was rejected, and he was sentenced to between 20 and 40 years' imprisonment in Michigan for second-degree murder. After serving 10 years in prison, he was released in June 1970 due to prison overcrowding.
In 1971, Lucas was convicted of attempting to kidnap three schoolgirls. While serving a five-year sentence for the crime, he established a relationship with a family friend and single mother who had written to him. They married on his release in 1975, but he left the marriage two years later after his stepdaughter accused him of sexually abusing her. Lucas began moving between various relatives and one got him a job in West Virginia, where he established a relationship that ended when his girlfriend's family confronted him about abuse.
Lucas befriended Ottis Toole and settled in Jacksonville, Florida, where he lived with Toole's parents and became close to his adolescent niece Frieda "Becky" Powell, who had a mild intellectual impairment and had escaped from a juvenile detention centre. A period of stability followed, with Lucas working as a roofer, fixing neighbors' cars and scavenging scrap.
Arrest, confession to murders of Powell and Rich
Powell was put in a state shelter by the authorities after her mother and grandmother died in 1982. Lucas convinced her to run away with him and they lived on the road, eventually traveling to California, where an employer's wife asked them to work for her infirm mother, 82-year-old Kate Rich. Rich's family turned Lucas and Powell out, accusing them of failing to do their jobs and writing checks on Rich's account. While hitchhiking, they were picked up by the minister of a Stoneburg,Texas religious commune called "The House of Prayer.
In June 1983, he was arrested on charges of unlawful possession of a firearm by Texas Ranger Phil Ryan. Later, he confessed to the murders of Frieda Powell and Kate Rich. In addition to confessing, Lucas led the police to remains said to be Powell and Rich, although forensic evidence alone was inconclusive and the coroner stopped short of positively identifying either set of remains. His participation in the investigation would serve to boost his credibility in later confessions to other crimes. Lucas later denied involvement, but the consensus agrees he did murder Powell and Rich.
False confession spree
In November 1983, Lucas was transferred to a jail in Williamson County, Texas. Lucas reported that he was roughly treated by inmates and attempted suicide. Lucas claimed that police stripped him naked, denied him cigarettes and bedding, held him in a cold cell, tortured his genitalia, and did not allow him to contact an attorney. In interviews with law enforcement personnel Lucas confessed to numerous additional unsolved killings. It was thought that there was positive corroboration with Lucas' confessions in 28 unsolved murders, and so the Lucas Task Force was established.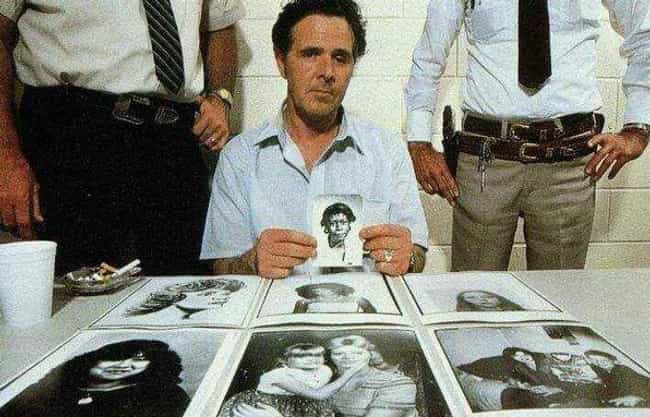 The task force officially "cleared" 213 previously unsolved murders as a result of the confessions. Lucas received preferential treatment rarely offered to convicts, being frequently taken to restaurants and cafes for his participation. He was rarely handcuffed, often allowed to wander police stations and jails at will, and even knew codes for security doors.
Later attempts at discovering whether Lucas' involvement in his confessed crimes were complicated when it was discovered Lucas was given access to information on the files of cases he was confessing to. This was a big deal considering most of the interviews weren't recorded nor documented very well. This man was literally confessing to anything ad everything that was presented to him. As if he just wanted to please the police officers or Texas Rangers. Not sure why someone would want to take on other murders but also it's clear he wasn't practical at all. Other Investigators started looking into some of these cases he'd confessed too, and quickly found that he physically couldn't be at these murder scenes. It was almost impossible, but the rangers took his word and probably would've just believed him had he not been caught or questioned otherwise. Attorney General Jim Mattox wrote that "when Lucas was confessing to hundreds of murders, those with custody of Lucas did nothing to bring an end to this hoax" and "we have found information that would lead us to believe that some officials 'cleared cases' just to get them off the books".
Who even knew what was truth and lies anymore? Seems like he was just trying to please whomever he was speaking with at the moment. Once he was away from the cops and Texas Rangers his whole tone changed to feeling bad about confessing to things he didn't do because he said "the killers are still out there". Why all the sudden change of heart? I personally just think he was a fucking mad man who wanted fame and attention of being such a crazy serial killer. I think he did kill his mother and maybe more but definitely not all he admitted to law enforcement. Maybe the Rangers and cops did show him too much or do a shit job, either way never believe everything a crazy person says! Especially one who is incarcerated and will say anything to get what they want.
Lucas remained convicted of 11 homicides. He had been sentenced to death for one, a then-unidentified woman dubbed as "Orange Socks," whose body was found in Williamson County, Texas, on Halloween 1979, despite a time sheet recording his presence at work in Jacksonville, Florida. Lucas was granted a stay on his death sentence after it was discovered that details in his confession came from the case file, which he had been given to read. The sentence was commuted to life in prison in 1998 by then-Governor George W. Bush. In 2019, "Orange Socks" was officially identified as Debra Jackson, who was 23 years old at the time of her death.
Death
On March 12, 2001, at 11:00 pm, Lucas was found dead in prison from heart failure at age 64. He is buried at Captain Joe Byrd Cemetery in Huntsville, Texas. As of 2012, Lucas's grave is unmarked due to vandalism and theft.
Lucas's credibility was damaged by his lack of precision: he initially admitted to having killed 60 people, a number he raised to over 100 victims, which police accepted, and then to a figure of 3,000 that led to him not being taken seriously. He remained, however, publicized as America's most prolific murderer. We may never truly know the exact number of his victims but we do know he was a troubled man with a terrible childhood and an enlarged frontal lobe due to a beating by his abusive mother as a young child. So maybe he was bound to be a bad person, who knows.