(Scroll to the bottom for most recent updates)
Authorities in Idaho are searching for two children whose disappearance may be tied to a suspicious death investigation and who may be in danger, police said.
Joshua Vallow, 7, and Tylee Ryan, 17, were last seen in September.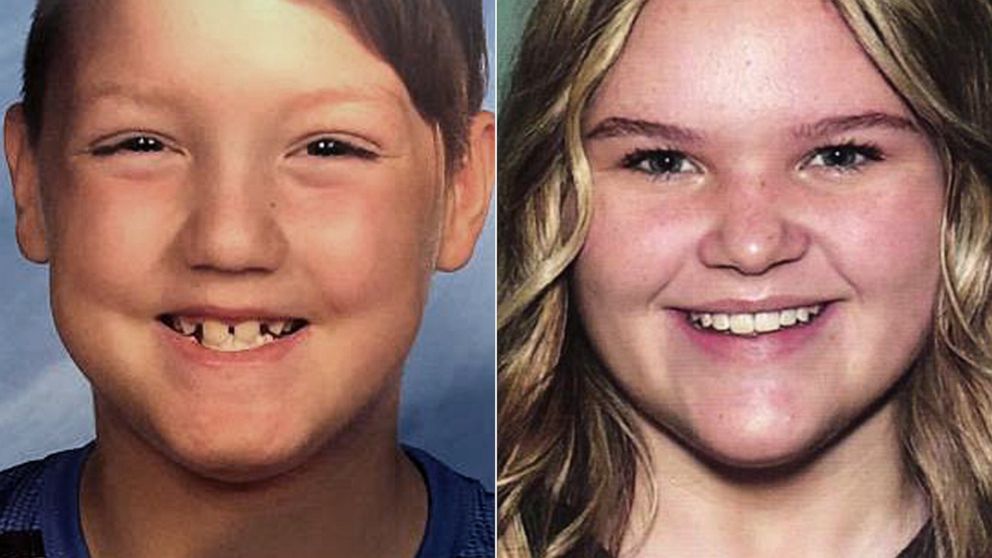 Investigators have contacted several of their family members, none of whom said they have been in touch with the children since September, Rexburg police said. The children have not been reported missing by their parents to any law enforcement agencies.
Authorities learned that Tylee was last seen alive on Sept. 8, in Yellowstone National Park, prompting the FBI to ask anyone who visited the park that day to come forward with photos and videos, which can be uploaded to FBI.gov/Rexburg .
JJ was last seen alive in Rexburg, where the family lived, on Sept. 23, according to authorities.
Arrested
Lori Vallow was arrested Thursday February 20, 2020 in Hawaii on a $5 million warrant from Idaho.
Lori Vallow has been charged with two counts of desertion and nonsupport of dependent children, Kaua'i police said in a statement Thursday. Police said Vallow failed to comply with a court order to produce her children to authorities by Jan. 30.
There is no indication that Vallow's children were on the island of Kaua'i, police said in the statement. Vallow's husband, Chad Daybell, was not in custody, law enforcement says sources.
The search for Tylee Ryan, 17, and Joshua Vallow, 7, began in November when Idaho police tried to conduct a welfare check on Joshua, who is adopted and has special needs.
According to Rexburg police, Vallow and Daybell said Joshua was staying with a family friend in Arizona, but investigators later learned that was a lie. A witness also told police that Vallow had falsely said Tylee was dead.
Annie Cushing, Tylee's aunt, of Salt Lake City that she is concerned for the safety of the children, because she believes Vallow is "unhinged."
Tylee's father, Joseph Ryan, who is Cushing's brother, was Vallow's third husband. He died, apparently of a heart attack, in 2018.
Rexburg police said they have learned that Vallow either knows where Joshua and Tylee are or knows what happened to them.
The children's disappearance could be tied to an investigation into the death of Daybell's first wife, Tammy Daybell, 49. She was found dead in her home in October, and Chad Daybell married Vallow weeks later.
Tammy Daybell's funeral
Tammy Daybell's funeral was held shortly after her death. Those in attendance said the funeral arrangements were made with remarkable speed, according to East Idaho News. One man said: "It was really weird because the casket wasn't even there. It all came together so quick and felt rushed. There weren't a lot of people at the service."
Chad Daybell reportedly received $430,000 in life insurance after Tammy Daybell died. Chad Daybell reportedly made "significant" increases to at least one policy before she died, the East Idaho News reported.
Chad Daybell and Tammy Daybell reportedly have five children together.
Vallow's fourth husband, Charles Vallow, also died last year. He was shot to death in July by Alex Cox, Vallow's brother, during a confrontation.
Vallow and Cox were questioned by police but not charged. Cox died in December. Woah lot's of death going on here, try and keep up.
Before Charles Vallow died, he filed for divorce, claiming in divorce documents that his wife believed she was reincarnated and was a god sent to lead people during the second coming of Jesus in July 2020 and that she told him that if he got in his way, she would kill him.
A lawyer who represented Charles Vallow during the divorce proceedings said in a statement that he had a "genuine fear for his life."
Other court documents, filed in Texas during Vallow and Ryan's custody battle over Tylee in 2007, revealed that Vallow was ordered to undergo a psychological evaluation after she told social workers that "death would be an option before giving Tylee to her father, Mr. Joseph Ryan, even for a visit."
Police in Kaua'i said they first received a request from Rexburg police to help find Vallow in December.
Vallow is being held in Hawaii on $5 million bail and does not yet have a court date. She will have the opportunity to waive or fight her extradition to Idaho. A lawyer for Vallow did not immediately respond to a request for comment.
Court Appearance
On Friday, March 6, 2020 Vallow made her first court appearance in Idaho after being arrested in Hawaii last month. Her bond was lowered from $5 million to $1 million and she was expected to leave jail that night.
Earlier this week, a set of emails revealed what Chad Daybell sent to Lori Vallow about the "seven missions to accomplish together." Those ideas included "translating ancient records, writing a book about it, identifying locations in Arizona for 'white camps,' the presidency of the Church of Firstborn, establish food distribution as the tribulations start, ordain individuals to translation and provide supplies to righteous members of families."
While authorities and court documents originally identified her as Lori Vallow, she told the judge she prefers Daybell now that she is married yet AGAIN..
It was Lori Daybell's first court appearance in Idaho after being arrested in Hawaii last month and charged with felony child abandonment. Her 7-year-old son, Joshua "JJ" Vallow, was last seen Sept. 23, and his big sister, 17-year-old Tylee Ryan, was last seen Sept. 8, 2019 the same day the family went on a day trip through Yellowstone National Park.
Attorneys for Lori Daybell, 46, argued Friday she is not a flight risk and has no criminal history. They had asked the judge to reduce bond to $10,000, or at least no higher than $50,000, saying the $5 million amount was excessively high amid media attention.
Wood said Lori Daybell continued to collect social security meant for her daughter and son after they were last seen. And her connection to three people who recently died, including her previous husband, demonstrates a clear and alarming pattern in the defendant's life.
The judge ordered Lori Daybell to wear an ankle monitor before her release from the jail, and said she must not venture beyond a handful of nearby counties. He required Daybell to also sign an extradition waiver and attend all court hearings.
A handcuffed Daybell, wearing an orange-striped jail uniform and pink lipstick, listened quietly and responded "yes," to questions from the judge.
She is next due in court March 18 and 19 for a two-day preliminary hearing, where she will have a chance to hear the evidence against her.
As of now the children still have yet to be found, if you've seen them or know anything about their current location please call your local police department. At this point I'm sure we all assumed the worst, but with no bodies we can't give up all hope yet.
Update 6/10/20
The Rexburg Police Department, Fremont County Sherriff's Office and the FBI served a search warrant on Chad Daybell's home in Fremont County, Idaho, on Tuesday morning in connection to the case of the missing children.
Chad Daybell was taken to jail Tuesday June 09, 2020 after remains were found on his Idaho property. Police Chief said that "detectives and investigators have recovered what is believed to be human remains that have not been identified at this time,". Daybell was booked in the Fremont County Jail and will make his first court appearance Today Wednesday morning. Hagen offered no details about what charges Daybell might face.
Chad Daybell has been taken into custody with charges pending, police said. Investigators are continuing to search the property for any other information related to the case.
Vallow, 46, has still been in custody since she was extradited from Hawaii in March. She faces multiple charges, including two felony counts of desertion and nonsupport of children, according to a criminal complaint filed with an Idaho court.
Maybe now that they have found the possible bodies of the children they can both be prosecuted.
The two bodies found in the backyard of Lori Vallow's husband's Idaho home allegedly belonged to children, prosecutors claim.
On Wednesday, Chad Daybell made his first court appearance before a Fremont County judge via video conference. Daybell has been charged with two counts of destruction, alteration and concealment of evidence.
During the hearing, Madison County Prosecutor Rob Wood claimed that the bodies' identities have not been publicly confirmed yet, but are bodies of children. He also said "the manner of concealment" of one of the bodies was "particularly egregious."
Daybell is currently under investigation for potential murder, attempted murder and conspiracy charges in the death of his first wife. His current wife, Lori Vallow, is behind bars on a $1 million bond after being arrested in February on charges of failing to produce her two missing children, 7-year-old Joshua "J.J." Vallow and 17-year-old Tylee Ryan, to police.