Lawrence Sigmund Bittaker (September 27, 1940 – December 13, 2019) and Roy Lewis Norris (born February 5, 1948), also known as the Tool Box Killers, are American serial killers and rapists who kidnapped, raped, tortured, and killed five teenage girls in Southern California over a period of five months in 1979.
Bittaker and Norris became known as the "Tool Box Killers" due to the fact the majority of instruments used to torture and murder their victims, such as pliers, ice picks, and sledgehammers, were items normally stored inside a household toolbox.
In late October 1979, California authorities were busy hunting down and capturing The Hillside Strangler, Angelo Buono. In the meantime, two more barbaric killers had teamed up to fulfill a prison time fantasy – to kidnap, rape, torture and kill a girl for each teenage year. For two months, the duo hunted roads and beaches, looking for victims who matched their demented fantasy. They almost met their goal, killing five young girls, ages ranging between 13 to 18. This is their story.
Bittaker and Norris Meet
In 1978, Lawrence Sigmund Bittaker, age 38, and Roy L. Norris, age 30, met while in the California State Prison at San Luis Obispo. Norris was labeled as a mentally disordered sex offender and previously spent four years at a state mental institution. Once released, he raped again and returned to prison. Bittaker spent most of his adult life behind bars for various offenses. As their friendship grew, so did their fantasies of raping and murdering teenage girls.
After their release from prison, they paired up, transformed Bittaker's 1977 GMC van into what they nicknamed, "Murder Mack," and began their kidnap, torture and killing spree of young girls. As is characteristic of psychopaths, the pain inflicted on their victims grew more vicious with each new captive.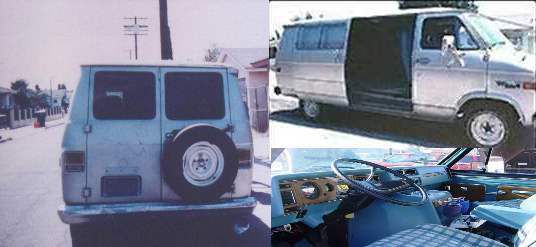 Cindy Schaeffer
On June 24, 1979, in Redondo Beach, Cindy Schaeffer, age 16, was walking to her grandmother's house after attending a church program. Bittaker and Norris pulled up next to her in the 'Murder Mack' and tried to entice her to go for a ride. Her attempts to ignore the two failed. She was forced into the van and taken to a pre-selected spot in the mountains. There she was tortured and denied her requests to pray before the two beat and strangled her to death with wire coat hangers.
Andrea Hall
On July 8, 1979, the duo went hunting for their second victim and found 18-year-old Andrea Hall hitchhiking on the Pacific Coast Highway. With Bittaker hiding in the back, Norris stopped and offered Hall a ride. Within minutes after she entered the van, Bittaker attacked, raped and took pictures of her bound and in fear. As if playing a game, Bittaker then asked why she should be allowed to live. Not liking her answer, he stabbed her in the ear with an ice pick and choked her to death.
Jackie Gilliam and Jacqueline Lamp
On Sept. 3, 1979, the murderous pair picked up their youngest victims from a bus stop at Hermosa Beach. Jackie Gilliam, 15, and Jacqueline Lamp, 13, were kidnapped and taken to the mountain location where they were raped and tortured for two days. As with Hall, both girls were stabbed in each ear with an ice pick, their small bodies viciously attacked with vice grips, then strangled to death with coat hangers tightened with pliers.
Lynette Ledford
The killer's last known victim was killed on Oct. 31, 1979. Sixteen-year-old Lynette Ledford was kidnapped and her body mutilated. The young girl was stabbed numerous times, and with pliers, Bittaker ripped at her body. During her torture, her screams and pleas were tape-recorded as Bittaker repeatedly beat the young girl's elbows with a sledgehammer, all the time demanding that she not stop screaming. In the end, the pair strangled her with a coat hanger.
For 'fun' the pair decided to leave Ledford's brutalized corpse on the lawn of a suburban home in Hermosa Beach, just to see the reaction of the media. The Hillside Strangler, Angelo Buono, had been caught just a few days before the discovery of Lynette Ledford's body, although authorities were not swayed into identifying her killer as Buono.
Captured
Norris was the murderous pair's downfall. He bragged to an old prison friend about his crime spree. The friend tipped off police, and the story sounded much like that of the victim, Shirley Sanders. On September 30, Shirley Sanders managed to escape from two men who used chemical mace on her, then raped her inside a van. Police interviewed her again, this time armed with pictures, and Sanders was able to identify the van and Norris and Bittaker as her attackers.
Norris worked out a deal with authorities in exchange for his testimony against Bittaker, as well as showing police where they hid the bodies of their victims. Overall, police found over 500 photos of teenaged girls, 19 of which were listed as missing. But Norris clammed up and would only tell investigators what happened to five of the 19 missing girls.
The Sentencing
During Bittaker's and Norris' trial, the disturbing pictures of their crimes and the tape-recording of Lynette Ledford's final painful hours were shared with the jury. The impact was substantial. Bittaker was sentenced to death, and the judge included an extra 199-year life sentence just in case his death sentence was ever commuted to life. Norris was given 45 years to life for his cooperation in the investigation.
In 2009, Norris was denied parole for an additional 10 years.
Described by FBI Special Agent John E. Douglas as the most disturbing individual for whom he has ever created a criminal profile, Bittaker was sentenced to death for five murders on March 24, 1981, but died of natural causes while incarcerated on death row at San Quentin State Prison in December 2019.